February 2, 2021
Posted by:

web-editor

Category:

Digital Marketing, Search Engine Optimisation (SEO)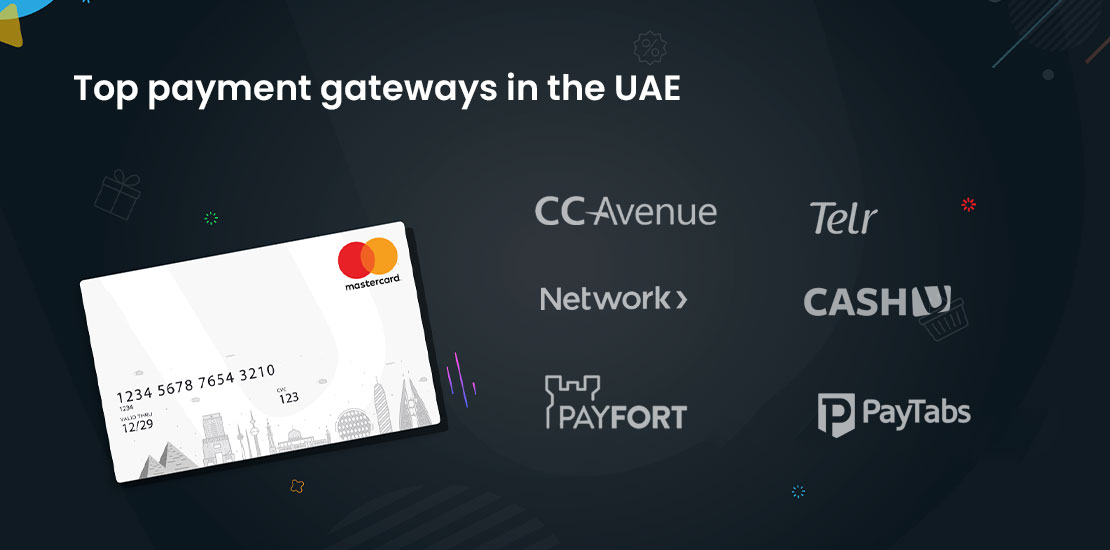 Take advantage of these top payment gateway integrations in the UAE
Businesses are swiftly shifting online, as a large number of people all over the world are allocating their shopping budget to e-commerce. The story is no different in the Middle East, and UAE is one of the biggest B2C E-Commerce markets in the MENA. The UAE is known for its highest spending per online shoppers and it projects strong growth in e-commerce sales in the coming years. So, if you are looking to build a smart and convenient virtual storefront on the web, this is the time. Competition between local and international online stores is getting intense, and therefore jump on the online bandwagon before it's too late.
While you are planning to get your eCommerce set-up and running, don't forget the most crucial aspect; the payment gateway integration. Investing in a dependable payment gateway is very important as it affects the profitability and success of your online business.
Here's what you will discover in this article:
What is a payment gateway
The role of payment gateway and its benefits
The major payment gateway integrations in the UAE
Overcoming payment gateway challenges
Let's dive in!
Understanding Payment Gateway
A payment gateway is a service that sends all of your credit card transactions to your credit card processors. In other words, a gateway acts as a cash register in an electronic transaction. Furthermore, it sends you a message from your credit card processor so that you know if a transaction has been authorized. For added safety, there are some payment gateways that will screen fraudulent activities.
Credit and debit cards, eCheck (ACH) and cryptocurrencies are processed through this software application. Acting as a channel between eCommerce website and the bank that authorizes a customer's credit card payment, the payment gateway ensures easy and trusted completion of the sales process on your website.
Role of Payment Gateway and its important benefits
Payment gateway services, as mentioned earlier are like cash registers for your electronic payment for your online transaction, and it is required for all online credit card processing. Authorizing the online transactions is the main role of the payment gateway, without which the transaction will remain incomplete. To simplify, if the transaction process is not approved by the payment gateway, you won't receive your money.
Since payment is involved, entering sensitive information, such as credit card numbers becomes a great concern for the consumers. With a highly secure payment gateway that uses industry-standard encryption you can rest assured that your sensitive data is fully protected. Secure transaction is undoubtedly the most important benefit of Payment Gateway integration. It protects merchants and consumers from fraud.
Other benefits include:
Fast transaction processing
Reduces human error
Expands the customer base
Increases cash flow
Now that we have covered the basics of Payment gateway, let's explore the major players in the payment gateway sector in the UAE.

Telr, a reputable payment gateway that supports more than 100 countries is one of the popular choices among the eCommerce industry. To cater to the increasing needs of the consumers, it provides a number of updates to handle more payment methods.
Entry, Small, and Medium are the three payment packages available. This option is great for startups as well as established eCommerce businesses.
By providing a robust suite of payment products and services, this Dubai-based payment services and solution provider is recognized as a complete payment solutions company. It requires a high-security deposit from its customers and therefore it's customers include large conglomerates and businesses in the Middle East.
Amazon Payment Services has been very popular since its launch in 2014. It is operating in Arabic speaking and surrounding countries like UAE, Egypt, Saudi Arabia, Qatar, Jordan, and Lebanon. Due to affordable prizing options and high security, it is a good fit for small and medium-sized businesses. Amazon Payment Services provides additional services such as protection from fraud for an extra cost. Amazon Payment Services excellent payment gateway accepts several online payment methods
CC Avenue is known as the largest Indian payment gateway provider since its launch in 2001, and today it is one of the trusted and widely used payment gateway specialist in the UAE. The best part of CC Avenue payment gateway packages is that it caters to the needs of any business regardless of its size. So if you own a small, medium, or large eCommerce business, you should consider CC Avenue.
Launched in 2014, PayTabs is known for its high-end agile technology and fraud prevention system. It makes online payment transactions easy, secure, and allows sending invoices. It offers a wide range of plans including the start-up plan, growth plan, and enterprise plan to meet the demanding needs of the businesses. Its innovative security management is certified by Visa and MasterCard.
Cashu is located in Dubai, and it is renowned as one of the first and the largest online payment solution company in the Middle East and North Africa (MENA). To protect its customers from various risks and fraud, it offer secure fraud prevention and AML systems. The best part of this provider is that you don't have to worry about chargeback on your transaction.
How to overcome payment gateway challenges
Payment gateway integration may sound overwhelming to a lot of you, but it is not that complicated. However, payment gateway integration comes with a few challenges, like any other technology. Not to worry, you can overcome these challenges easily if you hire a good technology company to develop your eCommerce platform. Reputable technology companies in the UAE, like ours, not only provide great advice on choosing the right payment gateway solutions for your business but also, ensure secure and quick integration of the software from beginning to the end. Even if you are a newbie to this whole payment gateway integration don't you worry we will provide you with all the information to help you make a wise decision.
At Gligx, we provide answers to all your payment gateway integration challenges associated with card data security, Cross-border transactions, multi-currencies, and multiple payment gateways.
If you have any questions let us know in the comment box below, we would love to answer them.